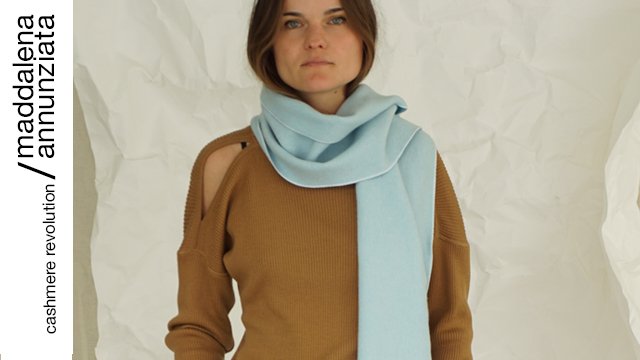 Cashmere Revolution
We love making luxury knitwear. But we want to do it differently.
20 802 € EUR
committed on a goal of €20 000
104%

funded

PROJECT FUNDED ON THE 12/20/2018

136

supporters
We design sweaters and accessories of cashmere and extra fine merino wool in Antwerp. We use cashmere and natural fibers, produce honestly and transparently in Italy and sell online. Our goal is to start a discussion on the relationship between value and price in fashion.
The price of a simple white cotton t-shirt can vary from 2 Euro to 200 Euro. Even more surprisingly two identical t-shirts, produced in the same factory, can have a price difference of x100. We believe that the customer deserves to know what he is paying for. In order to start this discussion and finance the first round of production we started this crowdfunding.
Do you want your clothes to be produced responsibly? Do you want to know what you are paying for? Do you want a modern, timeless design? Then these sweaters are really something for you!
Photo: Stephanie de Smet / Model: Lisa Banholzer
This is how I do it
Antwerp, Belgium, is the base of my creative process. Here I give shape to my ideas in a shared atelier building. The daily interaction with likeminded creatives is a constant source of inspiration and one of the reasons why I choose Antwerp.
Italy is my home country. It is where I source the yarns and produce the sweaters. Italy is internationally recognized as the point of reference for fine yarn production. Sadly, most small and medium sized manufacturers have had to shut down due to global price dumping and mass production.
All natural fibers
I source the yarns directly from some of the most prestigious Italian spinning mills.
The extra-fine Merino Wool is made entirely in Italy. The yarn is certified with the internationally recognized OEKO TEX standard and produced using green energy. Merino Wool is extremely light and soft. This pure wool's natural characteristics are breathability, elasticity, and resistance to crease.
The cashmere and cashmere-blends, are certified by the Cashmere Council CCMI, an internationally recognized organization that regulates quality and sustainability of cashmere. The raw material is sourced in Mongolia, where the Hircus Laniger Goat lives in a harsh climate.
This goat provides the finest Cashmere yarns. By combing it with a special clip the fibers are obtained. They are then hand-picked and washed before being shipped to Italy where the rest of the production cycle takes place.
Why Cashmere? It's thinner, softer and stronger than other wools. The length of the fiber determines the quality. You can buy Cashmere Sweaters for 100 € at big fashion retailers, but the quality is inferior. Sweaters made from long Cashmere fibers are extremely thin and strong. They will last you a lifetime.
The manufacturer
The sweaters are knitted in the north of Italy, with a small family-run manufacturer, that met my standards. The manufactory is run by Simona, who inherited the business from her parents and is today successfully combining tradition with innovation. She has managed to stay relevant in a time where most small Italian production sites shut down. In her workshop I found hand-knitting machines next to fully digitalized automatic knitting machines. This unique combination made my choice inevitable.
Simona and her team
We are cutting through the supply chain
All sweaters are sold online, because I want to offer you an affordable luxury garment. My goal is the reevaluate clothing in regards to its value-price relation. By working closely with my producers and selling online, I cut through the supply chain, and avoid margins. With this method I am able to offer the sweaters for half of the conventional retail price.
Do you want to try them on before funding? I will organize open studio days for everybody in the Antwerp region.
In the future we will organize pop-up shops in different European cities.
Authentic beauty
In times where fillers and plastic surgery are discussed over lunch break, I am desperately looking for authentic examples of beauty. I honestly don't care about the women we see in the magazines and on the billboards. I could also care less about perfection.
I am a woman. I am interested in women. I want to know their stories. When I was developing the sweaters, I always kept in mind the women around me. My goal was to make sweaters for different type of body shapes. We took pictures of friends, family, and people around us. They are the people who inspire me every day.
THE SWEATERS
The Hole Sweater
The Hole Sweater is made from 100% Merinowool. It is quite fitted and body conscious. It's for everybody who wants to show off their curves. It's very elastic and therefore adapts to the body-shape. The shoulder gets extra attention. Of course if you choose a bigger size it has a looser fit.
Laure is 1,75m / she is wearing size M / colour camel / scarf in light blue
Karen is 1,75m / she is wearing size S / colour light grey
Karen is 1,75m / she is wearing size M / colour marino blue
Sun-ray Sweater
The Sun-ray Sweater is made from 100% cashmere. This sweater is perfect for women with smaller breasts. The lines of the knit draw the attention to the hips. You can have wide hips or be quite slim. This sweater will look great on you.
Hitomi is 1,54m / she is wearing size S / colour olive
Aziza is 1,80m and she is wearing size M / colour light grey
Yiran is 1,65m / she is wearing size M / colour electric blue / scarf in orange
Overwashed Sweater
The Overwashed Sweaters are made from 30% cashmere and 70% Merinowool. It honestly fits everybody. Choose the size according to which fit you prefer. L is for those of you who love an oversized fit, S is for those who prefer short and fitted.
High collar version
Ruibing is 1,60 / she is wearing size M / colour kiwi / high collar version
Joke is 1,67m / she is wearing size M / colour cream / high collar version
2-colour version & high collar version
Miguel is 1,75 / he is wearing size M / colour light blue / the 2-colour version
Vera is 1,70m / she is wearing size M / colour olive / the high collar version
2-colour version
Wieke is 1,62m / she is wearing size M / colour light blue / the 2-colour version
Ina is 1,70m / she is wearing size S / colour orange / the 2-colour version
Alix is 1,65m / she is wearing size M / colour marino blue / the 2-colour version
The accessories
The scarf and headscarf are made from 30% cashmere and 70% Merinowool.
Colour: camel / orange / light blue
// Christmas x Crowdfunding //
Are you still looking for a special Christmas gift? Why not fund in somebodies name?
In the meantime you will receive this gift card to give to your loved one on Christmas Eve.
He/she will receive the sweater or accessory in February with love!
What are the funds for?
This is what we will do with the money