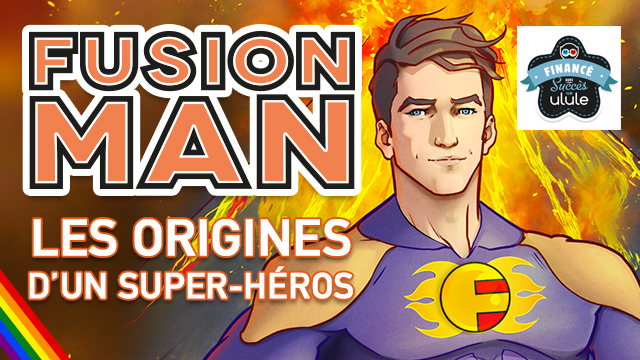 Fusion Man, The Birth Of A Superhero
Comic book fans : a new LGBTQ hero is born !
12 525 € EUR
committed on a goal of €10 000
125%

funded

PROJECT FUNDED ON THE 11/18/2018

273

supporters
After a short film broadcast on Canal Plus, Fusion Man goes on with his journey in a comic book featuring LGBTQ superheroes. A TPB of short stories was published last year. And today via this campaign, we wish to return to the origin story of this hero with a complete 120-pages story called "The Birth of a Superhero" . A century ago, our superheroes took their first steps in telling us the origin of their powers, and revealing to us what has led them to use their extraordinary gifts for the common good.

For our long time fans or any new reader, this book is for you! Come participate in the creation of the story of a superhero who is not afraid of diversity. Fusion Man has existed since the short film I wrote and released in 2009 on Canal Plus, yet nobody knows the origin of his powers. It is high time for us to share state how everything started!

"In 2009, at just 20 years old, I learned that Canal Plus Channel was launching a call for projects. In partnership with the Ministry of Health, they wanted to make a collection of five short films to talk about homophobia. As a fan of US superheroes and Buffy the Vampire Slayer, I decided to use this kind of fantastic universe that is so dear to me to tell the story of a superhero : a hero, a victim, a journalist in love and a super-villain. Classic. What's more, our hero is gay and must save a young boy in touch with his own sexuality. My screenplay was screened in 2010 by Marius Vale and Xavier Gens (Hitman, Border) with Raphaël Personnaz as Fusion Man and Félix Moati as Raphaël.


Following the success of the short film, I launched a political and experimental French-language webcomics, with a team of talented and passionate artists. At the time of the debate on gay marriage, Fusion Man also faced those who opposed that difference becoming the norm. The reviews that follow the publication of this comics online were very positive. They debuted in September 2017 with the publication of a series of short stories in a French print comic book: Fusion Man, the gay French superhero. But it's time for Fusion Man to go international. English speakers deserve diversity as well."

_ David Halphen, author of Fusion Man.

But Fusion Man is not limited to "being gay".


The short film by Canal Plus was commissioned for educational purposes. The webcomics was a cathartic tool, an outlet for the young french LGBT community, facing the liberated expression of homophobia. Fusion Man is a gay superhero who evolved within the LGBT community.

Yet, a desire to speak further on this topic as come to light from our readers. And from me : Fusion Man is gay, so what? It is the right time for our hero's sexuality to no longer be the central object of the plot. He should emancipate himself from his militancy. Fusion Man must be politically committed ... by no longer being so. Fusion Man is gay, so what?

In telling the origin of his powers, I want to show the reader who he is in all his complexity. I want to tell the story of the birth of a new modern superhero, in tune with his time, his era and the future. A future where the question of sexual identity is not an issue. Like Connor in How To Get Away With Murder, or Willow in Buffy The Vampire Slayer, the hero does not go through adventures solely related to his difference.

Fusion Man, the Birth of a Superhero speaks of identity, in all that the term can imply.


Fusion Man's sexuality is no longer the central subject of his adventures. This does not mean that Fusion Man goes back in to the closet.

Some heroes share their adventures with Lois, or Mary-Jane, and yet Fusion Man is also entitled to his romantic love story. His sexuality is no longer at the center of the plot, but remains at the heart of his daily life. Uninhibited, he leaves behind the eternal stories of coming out, homophobia and self-acceptance.

He is still a proud flag-bearer of LGBT people. Being able to be onscreen or in a book, in positive and nuanced representations, is essential. And many of us have grown up without seeing each other anywhere other than in gay nightclubs. "Love, Simon" kinds of stories do not run rampant.

Fusion Man is at the center of the plot, but his universe is diverse. There is a diversity of sexualities, but also of skin colors, religions and gender identities to represent the world around us.
There are even heterosexuals, can you imagine ? ;)

Like classic superheroes, Fusion Man is a mainstream superhero, and although sexualized, our story does not show graphic or erotic sex scenes. The gay comic book and Yaoi (Japanese manga) market has many notable works with gay heroes, including explicit sex scenes. Our goal with Fusion Man, The Birth of a Superhero, is to create a book that parents can easily give to their daughters or sons, accessible for the whole family from 12 years old and up, without an infantilizing the tone. This book is intended to appeal to adults who grew up with Batman, Wonderwoman and Spiderman, with a complex treatment of the characters and the universe.

By participating in this project, you will offer a chance at "mainstream" visibility to the LGBT community.
Where do his powers come from? Why does he use it to do good? What mythology governs his universe? How will he manage to face a terrible villain out of his past? There will be action, emotion, introspection, and a little horror.

"How many times have I been rightly asked: Why Fusion Man?"



Dan was already kind of depressed. And his school trip to Italy was not going to help him get any better. The 17 years old boy didn't have in mind to wake up naked on the flanks of Vesuvius, without any memory of what happened to him, with a mysterious tattoo above his butt. But no time to ask too many questions, it is already time to return to Paris. When the city of lights becomes the setting for strange events, Dan understands that the powers that made him Fusion Man are not due to chance. With the help of a somewhat sticky (and loosely enamored) team-mate and a group of loyal friends, Dan plunges into an investigation to discover the origins of his powers. But accepting the answers to the questions we ask ourselves is sometimes more difficult than finding them ...

Fusion Man, The Birth of a Superhero is a 120-page book, divided into 5 chapters of 24 pages. Somewhere between Spider Man: Miles Morales and Buffy. This book is considered the first volume of a long series of adventures. But each volume has a beginning, a middle and an end. A full story.

It has been written to be fully accessible to English readers who do not know about the short movie or the webcomics, rather as the pilot of a brand new show, a new comic book title ready for a new run. With some nods to the faithful who have followed our hero since 2009, the tone will be much darker than the short film by Canal Plus, which was almost parodic.

The album will be in comics format, with a hard cover, including the 120 comics pages, a short making-of with the author's notes, and of course your name in the book if you possibly participate generously in its creation. (see counterpart section).
And the English version will get an amazing extra : some of the short stories published in the previous French booklet will be translated and published at the end of this book with one special short story drawn by famous US artist Georges Jeanty.
How do I work?

I've been mixing traditional art and digital art for many years, specializing in black-and-white line art, but I'm always exploring other interesting graphic tracks. In parallel, for comics, I draw according to the needs of the project: in traditional style to best display the concepts through the sketches, or with digital means in order to ink or to colorize with an incredible range of possibilities. My drawing is the most coherent when paired with the atmosphere, the story and the intention of the author's script.

What motivated me to work on the Fusion man project?

It is my duty, not necessarily as an artist but as a human, to align myself with a vision of society, an ideal towards which to strive despite the uncertainties ... If I remain so feverish about the subject of discrimination, it is because it is a subject that echoes with something that goes beyond reason. Often tinged with the colors of a certain cultural or religious heritage, forged by traditions whose roots we cannot grasp, we discriminate on unproven fantasies like the immutable order of things. And for me, homophobia is one potential unfortunate outcome. As for the question of if one must be gay to participate in a project against homophobia: the answer is no because I am not."

_Yas Munasinghe, draftsman of Fusion Man.

*drawings and character designs may change on the final version.
PAGE 1 : Ink + Text are finalised. Color in progress.

PAGE 10 : Ink + text. Color to be done soon.
What are the fund for?
Despite our desire to create a story open to as many people as possible, comic book publishers are still hesitant to publish what they consider to be a "geek and gay" niche product for a "small audience". So we have taken the lead and decided to self-publish this book.

What are the steps to make this comic?
The first step, the script, is over and took several years of work. Its 120 comic book pages represent 150 pages of script and more than 200 pages swept into the trash before that to obtain the most satisfactory version possible.

Today, we are at the funding stage, thanks to your participation.

Then, it will take a year of work for Yas Munasinghe to complete all 120 comic strips, with character designs research, storyboard, drawings, inking, coloring and lettering and the realization of the cover. This long-term work requires time and equipment.
Finally, there will be the edition itself: the graphic design of the book, the physical printing of albums and delivery to you and bookstores.

This job cannot be done without your participation. The very existence of the book depends on your involvement in the project.
And if the goal is exceeded, we can even better focus on the quality of the album.
And if we wildly surpass the goal of 10 000 euros, we will look to the sequel !
And Volume 2 of the adventures of Fusion Man is promising, we swear!
The book will cost 22 € (20 pound, 26 dollars) in bookstores, so investing 26 dollars allows you to pre-order "Fusion Man The Birth of a superhero" (not including the shipping costs outside of France). You can be sure to have your book at the foot of the christmastree ... or at the beach according to the release date: we are aiming for the end of 2019 through to early 2020.
OK, we already said again and again that we need you.
But what do you get for helping us ?

• Year of creation: 2009
• First TV appearance: short film The Incredible Adventures of Fusion Man released in 2010 on Canal Plus.
• First stitched edition: Collection of short stories Fusion Man, gay superheroes and frenchie, published in 2017 at Spirit Darko.
• Title of the new book: Fusion Man, The Birth of A Superhero.
• Cover: Hardcover, color.
• Pages: 126 pages including 120 pages of color comics + 10 extra collector pages exclusive to the english version + 4 pages of making of.
• Format: Comic-style 170mm X 260mm
• Printing: 1,000 copies, plus possibly more depending on the success of crowdfunding.
• Release: End of 2019, beginning of 2020.
• Sales price: 22 €/ $ 26
• Writer: David Halphen
• Designer: Yas Munasinghe
• Edition: self-produced via Spirit Darko
• Express summary: Fusion Man, helped by Ord'Boy, his sidekick – possibly classified as more than sidekick - investigates the mysterious origins of his powers.
• Language: English version and French Versions.