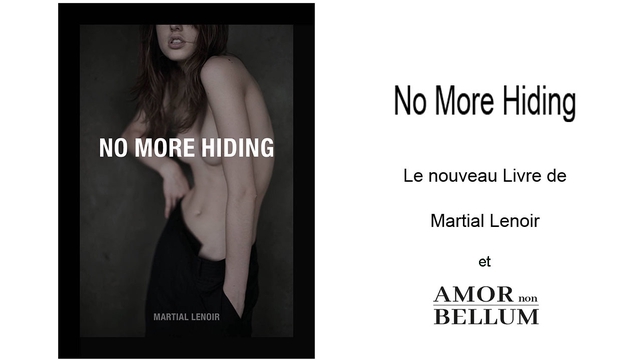 " No More hiding"
photography book
9 609 € EUR
committed on a goal of €9 000
106%

funded

PROJECT FUNDED ON THE 11/09/2019

109

supporters
Did you miss the campaign?
Rest assured! We're selling here 👇
Order
"No More Hiding"

After already 4 books out, thanks to your contributuions, 2 exhausted, it is time to tackle the new one.

"No More Hidding",
is the grouping of works between the fashion photography from which he came, and a work on the nude that Martial Lenoir has been pursuing for more than 10 years. Always in natural light, and most of the time outdoors. It will collect both black and white and color shots.

So we decided, with our publisher Amor Non Bellum, to gather these images (most of them issued from editorials for magazines such as Normal, Treats, Inked, Lions, Tartarus ....) and a lot of unpublished, in order to create a new beautiful book of 160 pages (may be more depending on the success of this campaign), in the format 23x36 cm in a limited edition of 500 copies only.


We hope to find you as many and passionate
than on our previous books and so celebrate together the release of "No More Hidding"
scheduled for early 2020.

We will organize, as every time, a launch party dedicated to Ululiens!
Rare contributions whose acquisition is done exceptionally on this Ulule
are already available, new surprises will soon be coming!

... and most of all, big thanks for your support!

AMOR NON BELLUM team
" Portrait and fashion photographer Martial lenoir (1971) combines modern naked with eroticism from another era. In a French, erotic world of the past that fires imagination, he portrays modern and powerful women who look into the lens without embarrassment. In that era, the literary work of Baudelaire was banned and one could only guess what was happening in a woman's private domain. Parisian Boucher uncovers boudoir secrets, while he emphasizes setting the scene and aesthetics and eliminates unnecessary fuss. He says: "A woman is beautiful by nature. I compliment the natural beauty using the camera and setting."
Pay Boy Italy
Martial Lenoir has set up his neighborhood in a workshop in the middle of a vast wasteland in Pantin. a place like the character. It is there that since years he reslises his edits and his tests for agency. Here, the model rarely smiles, beauty is cold, diaphanous, icy, as if to link loneliness to introspection. Like its light: constantly natural. Like a precious painting, the moment seems captured, but without any dramatic tension.
Although his work is more contemporary today, and turned to fashion, there is no excessive ornament, or opulent and saturated staging. Instead of raw: the woman is sublimated naturally, without artifice. She is magnified by her simple beauty and in her simple device. As and when his creations, props evaporate, to give free rein to primitive nudity.
One of his last series "Pure Concrete", is the privileged witness, as much by the cognitive impact of the title as by the raw result. Martial is a proliphhic and passionate photographer, a polaroid lover, his treatment, his many techniques and variations. It released, the instant case for many years, to arrive at this result of the most neat ones.
Normal Magazine